Hi we are Harry and Karen and we run Groove Karaoke, welcome to our website.
We started singing Karaoke the year 2000 at different venues around town.
In June 2004 we started Groove Karaoke, entertaining mainly at friends parties until we got our first venue at Mt Henry Tavern.
We have done birthday parties for all ages, theme parties, weddings and corporate functions.
We have Karaoke Systems for hire.
The Systems are digital & wireless with 28000+ quality karaoke tracks. For a small fee we hire them out to anywhere within the Perth metro area.
One of our systems has 30000 songs, many available in other languages.  This is also a touch screen karaoke machine that does have a different song book to the other systems – please see the Touchscreen Karaoke Machine page for more details.
Both our venue and hire-out songbooks are constantly updated as we purchase the latest discs when they are released from KHE Melbourne.
About our photo gallery
Well we thought it would be a fun thing to show case all the talented singers that attend our venues of course if anyone would prefer not to be included in the gallery just let us know. The Gallery is being refreshed as we speak with the new website more pics to come soon…
Facebook
You can also find us on FaceBook just search for "Groove Karaoke" we keep our friends regularly updated on what we are up to and our venues.
Karaoke is Fun
Remember Karaoke is meant to be fun regardless of what experience and ability you might have. Come with your friends or family or by yourself, there are always like minded people at karaoke determined to have a great evening out.
DJ Mikey have now come onboard  he looks after Bar O, The Rocks & Last Drop Beeliar
We are always pleased to see singers come back to our shows, as well as welcoming new singers. We try to provide a great song selection, quality sound and an attentive and courteous attitude to all our singers old and new making our evenings so enjoyable.
The Show & Some Rules
We start the evening off by singing a song each then depending on the amount of singers we have we might not sing again. We do not now allow people under the age of 18 to sing, unless otherwise stated.
Please don't bring your drink with you up on stage, you can't drink and sing at the same time and alcohol + electric equipment don't mix. We do reserve the right to refuse people to sing if we find they are rude or offensive to either the public or us.
Singer rotation, well I could write an essay about this issue. We go by one song per singer per round. A duet counts as a song for both singers, and the same applies if there are 3 or more singers singing the same song.
We always try to look out for everyone that comes to our show. We are equally grateful to all who come along and participate in the fun that is Groove Karaoke.
Awards
We were awarded "Pride Of Workmanship Awards by The Welshpool Rotary Club on the 17th of February 2015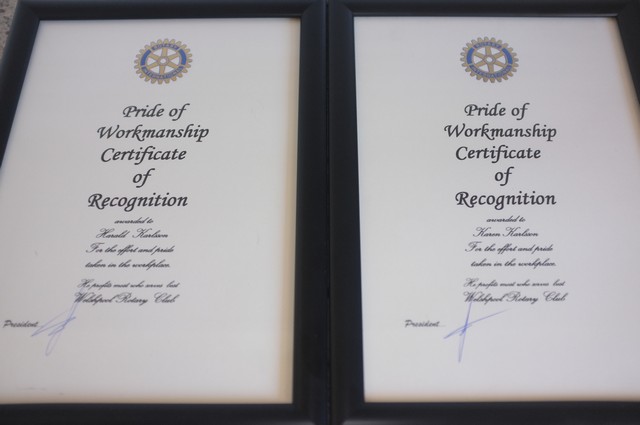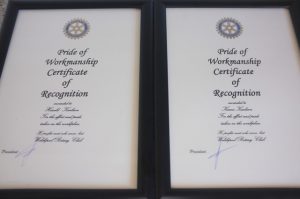 The Show Rig as of July 2018
Speakers:
F/H: 2 X KV2 EX10 500w Powered, Subwoofer: EV sbA 760w Powered, Foldback: Tapco Thump by Mackie 300w Powered.
Microphones:
Shure Beta Wireless X 2
Mixer:
QSC 12 Digital
Licensing:
Groove Karaoke is registered with M.I.P.I and we have the relevant licenses and manufacturer approval to put our discs on to a laptop.
We purchase Discs from K.H.E in Melbourne and our Soundchoice discs we purchase from Express Karaoke San Diego U.S.A
All our MP3′S are purchased from Sanity/Bandit FM
Our History
We have performed at Bar Orient in Fremantle every Wednesday since August 2007 , Bar Orient on a Sunday since January 2016,  On The Rocks Bar & Bistro since July 2020 on a Monday + OBH in Cottesloe on a Tuesday since December 2020 Now 1st Tuesday of The Month . Last Drop Beeliar on a Friday since February 2021. We always try and create a very karaoke friendly atmosphere at all these venues so come along and join in the fun!!
Cheers
Harry & Karen